Featuring selections by Matthew Jeffrey Abrams, Emmanuel Iduma, Kaitlyn A. Kramer, Ashley Stull Meyers, and more.
Samantha Wall, Sisters , 2018. Gold leaf and ink on Dura-Lar. Courtesy of Russo Lee Gallery.
Hilma af Klint at the Guggenheim Museum in New York City
Right now, and until April 23, the sloping walls of the Guggenheim Museum will stage one of the greatest and most anticipated shows of modern art in recent history. Hundreds of paintings and drawings by Hilma af Klint, a turn of the century Swedish painter (and woman), now greet the visitor. Af Klint preferred bold abstractions full of curvilinear geometries and cryptic language, laying them down in vibrant, yet quite matte, tones.
Her aesthetic is remarkable—a kind of relaxed and fluid, yet carefully balanced, blending of forms. It's less hard edged than, say, Wassily Kandinsky's Bauhaus-period works, but still more ordered (and non-objective) than his even earlier Blaue Reiter period. And that, maybe, is the most incredible thing of all (or at least the one historical fact that the Guggenheim has rightly privileged): Hilma af Klint was making large-scale, hardcore, full-blown abstract paintings in 1906, and that is well before any of the men whom we associate with inventing that tradition, like Kandinsky or Kasimir Malevich.
The implications here are nothing short of paradigm shifting. Af Klint's works are both extraordinary in their own right and challenge some of the most accepted and intractable narratives about twentieth-century art, which have always been male-dominated stories. So go to the Guggenheim and see Paintings for the Future. Indulge in the artist's spiraling arabesques as you spiral up the building, and revel in some of the most beautiful, and most forgotten, paintings in the history of modern art.
Matthew Jeffrey Abrams last wrote for BOMB about Allen Ginsberg throwing out the first pitch at a San Francisco Giants' baseball game.
Dig Where You Stand at the Carnegie International, 57th Edition in Pittsburgh
A resonant gift of contemporaneity: two museums in Pittsburgh mined for what they say of now, as their objects become more than relics and works of art, but ideas teeming with life and idiosyncrasy. "A rumination on coloniality," says the exhibition guide, also "a visual essay," drawn from the Carnegie Museum of Art and the Carnegie Museum of Natural History. An audacious through-line, in which both a bald eagle shot down at the Battle of Gettysburg, a silkscreen portrait of Andrew Carnegie by Andy Warhol, and portraits of Egyptian Pharaohs might be triangulated to reveal the insidious logic of colonial expansion, and can introduce the mesmerized onlooker to two other subthemes—"speculative temporalities" and "mobility + exchange"—as well as to midcentury photographs, Rodin's Thinker contemplating a TV, and more. An elongated gallery at the back of the museum, with adjacent entryways, so that a place where all the "Art Before 1400" was relegated might become the cornerstone for everything else. The work of Koyo Kouoh, an exhibition-maker who rejects hierarchies, even the designation "curator," for whom art history can be messed with, to reveal its many timelines, worlds in relation. Her exhibition, Dig Where You Stand, is made as part of the Carnegie International, 57th Edition , until March 25, 2019.
Emmanuel Iduma last wrote about Lina Iris Viktor for BOMB's Theory + Practice series.
Country Life at Musée de la Chasse et de la Nature in Paris
Inside two adjoining eighteenth-century mansions in Paris's third arrondissement, a visitor will encounter the following: an ornate chair supporting a taxidermied fox in repose; cabinets housing bronze casts of animal turds; two massive, stuffed apes flanking a delicate picnic scene; and a chamber of bureaus stuffed with guns. A bestiary of the long and varied relationship between humans and other animals, the Musée de la Chasse et de la Nature is perhaps the most unexpected and thrilling museum in Paris.
This Wunderkammer is the ideal setting for Country Life, which features a selection of equestrian paintings from the collection of Paul Mellon. What could easily be a forgettable show was given unexpected charm by Antoine Platteau, the artistic director behind Hermès's window displays, who designed the gallery's installation as a pristinely white, climate-controlled stable. Each intimate trough has a name and houses eerie scenes of horses and lads by George Stubbs and Eugène Delacroix, Edgar Degas's intent jockeys, and the pastoral compositions of Gustave Caillebotte and Claude Monet. While this exhibition can be seen as an insignificant detail in the amalgam of images that represent this year, there's something to be said about finding these little places that reward looking with laughter and intrigue, where you find yourself slowing down, delighted by what you see.
Kaitlyn A. Kramer last wrote about Mahmoud Khaled at Helena Anratherfor BOMB.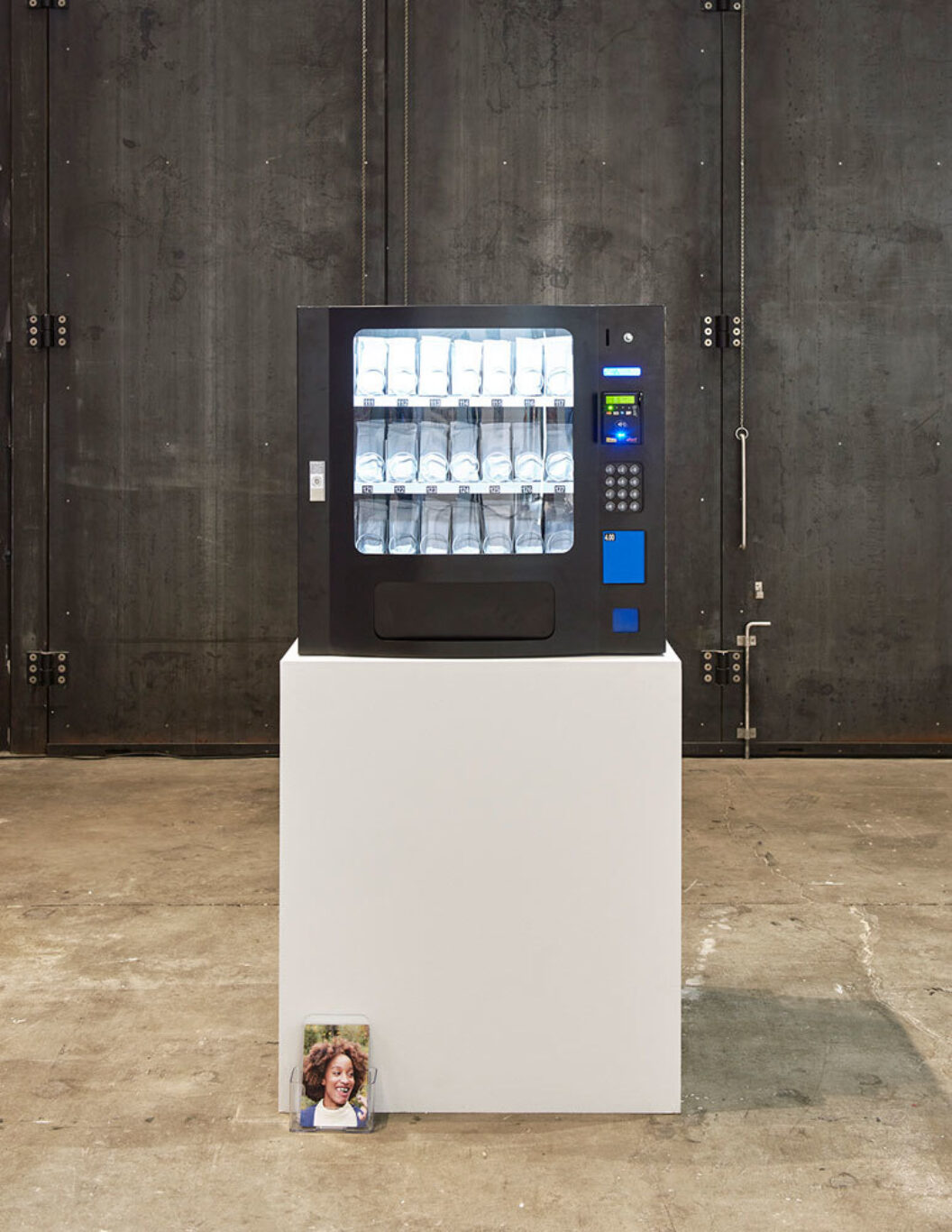 Sean Raspet and Nonfood, Nonbar (Prototype Version 2) , 2018. Algae-based nutrition bar. Nutrition information at www.eatnonfood.com. 74 million million million tons , SculptureCenter, New York, 2018. Installation view. Courtesy the artist and Nonfood. Photograph by Kyle Knodell.
Lisa Jarrett's Imagining Home: 100 exercises in empathy , Melanie Stevens's On View , and Samantha Wall's Phantom Limbs at Russo Lee Gallery in Portland, Oregon
Lisa Jarrett, Melanie Stevens, and Samantha Wall created three simultaneous exhibitions as a singular gesture. Their themes—the racialized body, the poetry in its cultural tells, and the wit required to endure criticism—disrupted Portland's oft ubiquitous fall exhibition calendar.
Jarrett's Imagining Home: 100 exercises in empathy is a topographical atlas born of the intimate and fraught transaction of touching another's hair. Her collaborators construct imagined lands from the artist's discarded curls. Some manipulated their given material more assertively than others, allowing for a metaphorical range of sites—conquered or free.
Stevens's On View is an ever expanding growth of copper-plated prints on fabric. Appropriating scenes from iconic black cinema, popular culture, and news media, the work and its meme-worthy texts present a pithy manifestation of the current socio-political climate.
Wall's Phantom Limbs are exquisite renderings in ink on Dura-Lar. The bodily forms are composed from a controlled bleed, contained in its final stages by gold pointillism. Their delicate yet meticulous abstraction becomes a coded language for mixed heritage and the internal mechanisms of embodying both cultures fully.
The three coyly executed exhibitions are an incisive conversation about makership from the margins of industry support. The (real or perceived) physical, spiritual, and academic responsibilities of "otherness" in culture work are presented as an unreasonable load for any individual artist. But, together, Jarrett, Stevens, and Wall emerge as progenitors of a new generation of artmaking in the Pacific Northwest.
Ashley Stull Meyers last wrote about Vaginal Davis at Adams and Ollmanfor BOMB.
Familiar Boundaries. Infinite Possibilities. at the August Wilson Center in Pittsburgh
The curatorial jewel of 2018, for me, is an exhibition showing coterminously with the Carnegie International at the August Wilson Center in downtown Pittsburgh. Familiar Boundaries. Infinite Possibilities. is the curatorial brainchild of the indefatigable curator Kilolo Luckett who shot for the moon and successfully hit her target of creating a formalistic survey of art by black artists. The crowning piece of Familiar Boundaries. Infinite Possibilities. is the inclusion of Flying Girls by Peju Alatise. This wondrous sculptural installation was shown at the 57th Venice Biennale and traversed the ocean to be in Pittsburgh for this exhibition. The mission of the exhibition is to question society's obsession with tradition, policing, consumption, and indulgence. Familiar Boundaries. Infinite Possibilities. also, ever the heart of Luckett's curatorial methodology, opens the gaze to see beyond violent institutional structures to the shimmering joy that resides in resistance and the black radical imagination. This marvelous exhibition includes the work of stupendous artists like experimental artist Shikeith, photographer Nakeya Brown, mixed-media artist Martha Jackson Jarvis, performance and mixed-media artist Tsedaye Makonnen, sculptor Njena Surae Jarvis, and participatory artist and designer Lizania Cruz.
Jessica Lanay Moore last wrote about Radcliffe Bailey at The School for BOMB.
Vanessa German, Things Are Not Always What They Seem: A Phenomenology of Black Girlhood at Carl Hammer in Chicago
In July, the Chicago Police Department (CPD) announced that there is neither an epidemic of missing black girls nor evidence they are susceptible to becoming victims of sex trafficking. The statement, in response to a bombshell investigation by the Chicago Reader , came after four more girls went missing since March, and one was found in May, dead in an abandoned apartment. Vanessa German's fall exhibition, Things Are Not Always What They Seem: A Phenomenology of Black Girlhood at Carl Hammer, was a timely balm to the CPD's apathy. German's intricate constructions, based on minkisi, or spiritual effigies of the Kongo people, were embellished with beads, crystals, flowers, toys, and other signifiers of girlhood, marrying resilience and trauma with innocence and joy. During the opening, German stood at the northwest corner of Superior and Wells Streets twirling and laughing as she tossed flower petals from a bouquet she bought in the gallery's posh River North neighborhood. As she twirled, she shouted gleefully about how she—a black girl—was throwing more than $100 worth of flowers in the street, and no one was trying to stop her, something the girls for whom she made figurines may never do again.
Lee Ann Norman last wrote about I Was Raised on the Internet at Museum of Contemporary Art Chicago for BOMB.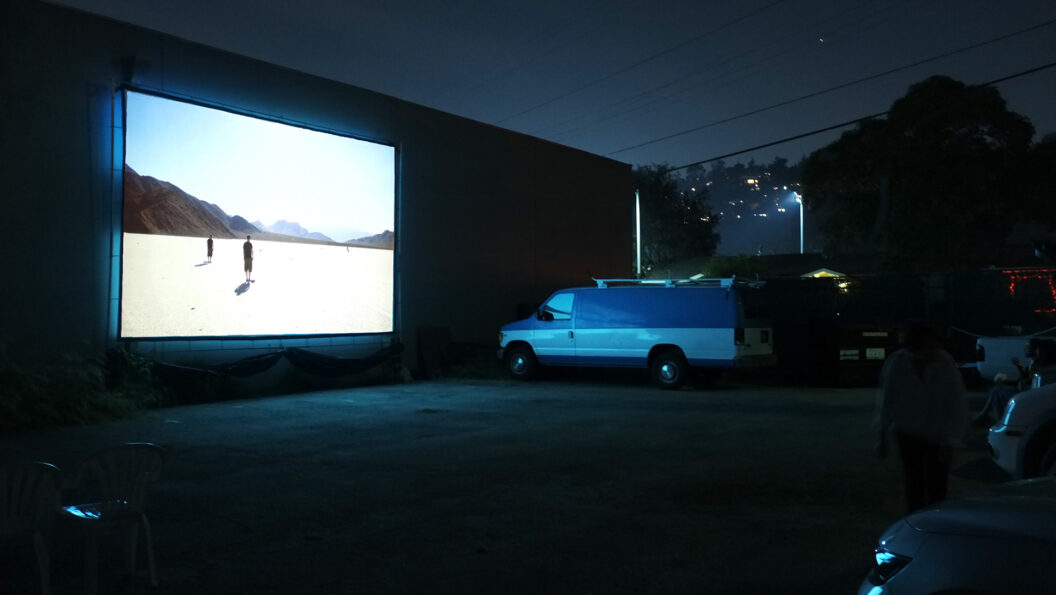 Drive-in Theater, 2018. Courtesy of FLAX.
FLAX (France Los Angeles Exchange)
FLAX (France Los Angeles Exchange), an organization that brings French curators and artists to Los Angeles, took over the parking lot of Tin Flats in Frogtown this fall and transformed it into a drive-in theater. With only enough space for eight cars, each vehicle had to be carefully reversed into a parking spot facing a large beautiful screen. With the assistance of an FM transmitter with a huge antenna, we tuned our car radios to 107.3 and watched an artist's video followed by a film chosen by the artist (full disclosure: I was one of the artists). We were invited to choose a second film that complemented or influenced our own, so the combinations were somewhat random but insightful to the artist's thinking process. My favorite pairings were Lola Gonzalez with Pier Paolo Pasolini's The Hawks and the Sparrows and Sarah Rara with Chantal Akerman's One Day Pina Asked . This has been my favorite way to watch film in LA since I moved here in 2007. Initial hesitation at the thought of spending even more time in my car shifted with my ability to control volume, the intimacy and privacy of sitting with a few friends (and sometimes strangers), and the somewhat disorienting effect of watching films through my windshield.
Alison O'Daniel was interviewed for BOMB by Anne Ellegood.
Sean Raspet's Nonfood at SculptureCenter in New York City
In commitment to making the most ecologically efficient and forward-thinking food products available, artist Sean Raspet founded Nonfood in 2016. However, it wasn't until this year at SculptureCenter's 74 million million million tons exhibition that I first encountered the concept of the LA-based startup in its blinking, vending-machine form. Atop a pedestal, the piece Nonbar (Prototype Version 2) evoked a transparent locker stocked with emergency foodstuffs for the future. Nonbars—snack bars made of 37% algae with 9g clean protein—were available inside for individual purchase and consumption.
From science fiction to the space industry, algae have long been recognized for impressive nutritional density and rapid growth sans soil or pesticide. Algae use up to only one-thousandth of the resources of conventional plant and animal agriculture, which now takes up nearly half the earth's surface. With over one million species, they are among the oldest organisms, food source, and producers of oxygen. Trends aside, Nonfood aims to create alternatives to the food culture that takes tremendous toll in the current ecological climate. To contextualize this in an exhibition seemed to further highlight how underlooked such specific knowledge remains in art-world discourse. The year 2018 was conceivably a busy one for Raspet, who once worked as a flavorist for Soylent. Nonfood as practice opens up a different model for art in dialogue with environmental sustainability, while embedded in aesthetic, molecular, and economic structures characteristic of entrepreneurship and industry.
Danni Shen last wrote about Sydney Shen for BOMB.
The Nameless Sound Ensemble at the Glassell School of Art, Museum of Fine Arts Houston (July 21, 2018)
Austere, otherworldly, and monumental: a sustained disquiet connected two sets performed by the Nameless Sound Ensemble in the newly inaugurated atrium space of the Museum of Fine Arts Houston, Glassell School of Art, designed by Steven Holl Architects. With each musician positioned along different points of the polished concrete staircase, pyramidal in form, or around the jagged upper balconies giving on to an ascending negative space, the twelve-piece ensemble intensified soundscapes at once graceful and strange in slow-burn elongation and counterpoint—a liturgy of fugitive ideas and emotions surging from the assembled murmur.